Beauty & Self
Books & Music
Career
Computers
Education
Family
Food & Wine
Health & Fitness
Hobbies & Crafts
Home & Garden
Money
News & Politics
Relationships
Religion & Spirituality
Sports
Travel & Culture
TV & Movies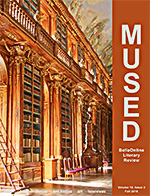 The autumn equinox, that balance point of light and dark, is closely tied to the moon. In China the Moon Festival happens around the autumn equinox, celebrating gratitude and the warmth of good friends and family. This year it was Sept 15th. Our last eclipse of 2016 was a penumbral lunar eclipse on Sept 16th. It fell in conjunction with the full harvest moon, also a symbol of thankfulness and appreciating those who care about you. The autumn equinox is a perfect time to add to those celebrations. It's a wonderful moment to treasure all we have and to share warmth with those who support us.

Autumn Equinox 2016 issue of Mused

White Mulberry
Landscaping - Connie Krochmal, Editor

White mulberry has been grown for over five thousand years as food for silkworms in China. It has been introduced to many other parts of the world.




Selling Vectors to Microstock Sites
Digital Art and Design - Diane Cipollo, Editor

In this tutorial, we will continue discussing how to clean up your Illustrator vector files for submission to microstock sites. Most of these sites have the same submission requirements and guidelines. Below is a summary of the most important issues.




Try zummus
Allergies and Colds - Sheree Welshimer, Editor

You love hummus but legumes are taboo; then try zummus, made with zucchinis




Age No Longer the Best Mortality Predictor
Geriatrics - Patricia Villani, MPA, PhD, Editor

Up until now the 'medical model' has depended upon the usual checklist of older adult illnesses to predict health and mortality. An important new study shows how we need to change our thinking about what is necessary to live a longer life. Learn all about it here!




Laneige Water Sleeping Mask Review
Body Care - BB Lee, Editor

Laneige Water Sleeping Mask Review




The Dating Game Serial Killer
Crime - Vance R. Rowe, Editor

Rodney Alcala was a serial killer who once appeared on the Dating Game television show. He won the show but after the woman who picked him got to talk with him afterward, found him to be creepy and declined to go on the date. This had probably saved her life.


| Google+ |
E D I T O R R E C O M M E N D E D
Dry Body Brush Natural Bristles


This bath body skin brush and scrub gloves will help reduce and prevent clogged pores, ingrown hair or acne problems and prepare your skin to absorb your favorite skin care products so much better.
Investing $10K in 2015


Have you received a windfall or inheritance? Confused how to manage it? Many people find the subject of investing to be complex. It doesn´t have to be. You can manage your money yourself.
Fall in Love With Your Feminine Power


This 8-week DailyOm online course incorporates meditation, energy healing, and women´s energetics work to help you heal, empower and awaken your connection to your feminine energy body. It includes print materials, video, and guided audio meditation. No prior meditation or energy work experience necessary. Embrace your full power, health, joy, and spirit!