Beauty & Self
Books & Music
Career
Computers
Education
Family
Food & Wine
Health & Fitness
Hobbies & Crafts
Home & Garden
Money
News & Politics
Relationships
Religion & Spirituality
Sports
Travel & Culture
TV & Movies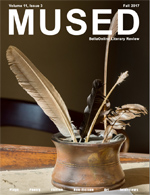 Autumn is a season for counting our blessings. For realizing just how much we have in life where so many others are without. It can often be easy to take things for granted. Things which millions of people desperately dream of having. By pausing for a moment, and looking around with mindfulness, we can find a new center. Begin with fresh energy.

Enjoy the Mused Autumn Equinox 2017 Issue



List of Magic Tree House Books
Children's Books - Launa Stout, Editor

List of Magic Tree House books. Enjoy time with Annie and Jack traveling to the past or the future.




Joys Of Collecting Stamps
Stamps - Gary Eggleston, Editor

Philately, or the study of stamps, is a huge field of study that has captured the attention of many Americans over the years. This fascination with stamps and the history that surrounds them has led to a hobby related to philately, which is collecting stamps.




How To Find Collectible Coins
Coin Collecting - Gary Eggleston, Editor

Coin collecting was started only as a hobby for most people, however you can hear what other people say (or you probably have heard yourself) about news of people cashing in on their old coin; and that encouraged more people to go on a coin-collecting streak. If you are one of those people who want




Doodling Spacecraft
Astronomy - Mona Evans, Editor

Let's look at some doodles celebrating space missions. If you ever search with Google, you may have seen the doodles before. They're drawings and animations celebrating people, events, holidays, inventions and whatnot, incorporating the Google logo in an amusing way.




The Distinctive Color of Flamingo
Environment - Farjana Amin, Editor

In compare to other sea birds flamingos have different color of plumage.They are not grey or white or a combination of both the colors. Let's explore the reason.




Herb Magick- Yarrow
Pagan - Ian Edwards, Editor

Learn how yarrow was used in magick and medicine by our cultural ancestors


| Google+ |
E D I T O R R E C O M M E N D E D
Fall in Love With Your Feminine Power


This 8-week DailyOm online course incorporates meditation, energy healing, and women´s energetics work to help you heal, empower and awaken your connection to your feminine energy body. It includes print materials, video, and guided audio meditation. No prior meditation or energy work experience necessary. Embrace your full power, health, joy, and spirit!
Easy Spanish Step-By-Step


Easy Spanish Step by Step offers grammar basics, clearly explained in order of importance, and numerous exercises and engaging readings.
God Underneath


Spiritual Memoirs of a Catholic Priest, By Edward L. Beck. Each chapter contains a scripture passage and personal tales revealing God's presence in everyday life. Fr. Beck is a member of the Passionist community and travels throughout the country preaching and organizing retreats. I highly recommend this wonderful book and have personally attended several of Fr. Beck's inspiring parish missions.