Beauty & Self
Books & Music
Career
Computers
Education
Family
Food & Wine
Health & Fitness
Hobbies & Crafts
Home & Garden
Money
News & Politics
Relationships
Religion & Spirituality
Sports
Travel & Culture
TV & Movies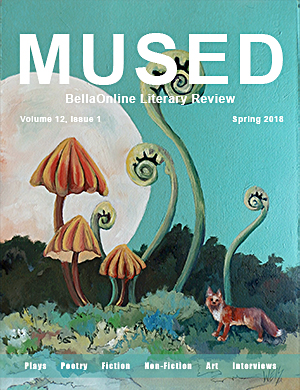 It can seem sometimes as if our world is whirling faster than we can keep up with. It can become overwhelming. Exhausting.

A balm which rejuvenates is to explore the creative efforts of individuals around us. To begin, turn off the noise and clatter of the world at large. Take a deep breath and instead focus on connecting with one fellow human being who presents their jewel of a thought to you. Examine it mindfully. Consider its meaning. Soak in the moment with this one human. Then connect with another. And another.

Enjoy the Mused Spring Equinox 2018 Issue



Pineapple Rasam Recipe
Indian Food - Sadhana Ginde, Editor

Rasam is a wonderful South Indian broth-like soup that is just bursting with delicious flavors, all perfectly combined in a delicate balance. In just one spoonful, you will taste – spicy, sweet, sour, tangy & peppery flavors, just to name a few. My yummy Pineapple Rasam has a subtle sweetness :-)




I Can't Get Gauge!
Knitting - Korie Beth Brown, Ph.D., Editor

That most revolting of all developments - how can you make the sweater if you can't match the given instructions?




Yoga Rising Review
Yoga - Korie Beth Brown, Editor

Yoga is there for everyone, and yet so many feel unworthy. Melanie Klein's anthology focuses on yoga and body image, but on so much more.




The Dome in Environmental + Land Art
Art Appreciation - Camille Gizzarelli, Editor

The dome is a familiar architectural wonder: the US Capitol, and St. Peter's Basilica in Rome. I'll discuss the origin of the dome and its influence on one environmental/land artist.




Crime Wave Film Review
Drama Movies - Angela K. Peterson, Editor

Director Andre de Toth elevates this B-picture to a higher level through his use of stunning black-and-white photography and creative composition. An authentic performance by Sterling Hayden anchors this crime drama shot on location in 1950s Los Angeles.




Spicy Korean Fried Rice Recipe
Quick Cooking - Karen Hancock, Editor

Got Leftovers? The spicy sauce in this recipe can transform meat or poultry into something very different from what it was originally - nobody will guess they're eating leftovers. Stir-fried with vegetables and rice, this 30 minute meal will become a favorite.


| Google+ |
E D I T O R R E C O M M E N D E D
TomTom ONE 130s GPS


Looking for a great GPS unit for your car? The TomTom ONE 130s is a great, moderately priced GPS system with text to speech capabilities. Spoken street names and TomTom´s EasyPort mounting system make this a terrific GPS unit!
Spirit Beach - Paranormal Romance Novel


When Renee Simone stumbles on the legend of John Henry Covington, the man with the mesmerizing eyes in the ominous portrait at the Covington B & B she and Adrian find out too late that a vampire's lust for love and blood never dies. Fear grows as the gusty sea spray and wind persuasively invites her to a personal audience with a ghost… "I´ve been waiting for you, Renee."
Caillou Goes Back to School DVD


Caillou Goes Back to School DVD is great for kids who are Caillou fans, and other kids who enjoy watching shows that depict family life.